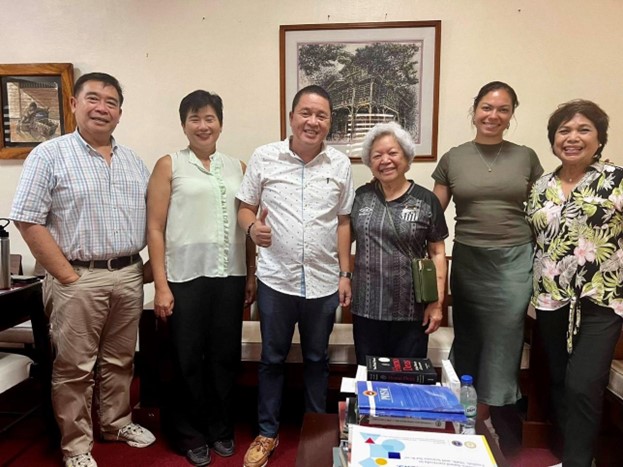 Alumni Update July 31 – August 6, 2023
Outstanding Sillimanian Awardee (OSA) Cynthia Arnaldo Bonta visited the campus last August 4, 2023 with her granddaughter, Reina Gabriela Villafañe Bonta, who is a member of the Philippine Women's National Football Team that recently played at the World Cup FIFA Games in New Zealand.
The Silliman University (SU) Alumni and External Affairs office facilitated a campus tour for them and a courtesy visit with OIC President/Vice President for Academic Affairs, Dr. Earl Jude Paul L. Cleope and Vice President for Development, Enterprise and External Affairs, Prof. Jane Annette L. Belarmino.
Cynthia, currently the Executive Director of Alameda-Dumaguete City Sisterhood Agreement, also met with Dumaguete City Mayor Felipe Antonio B. Remollo. Meanwhile, Reina was recognized as an "Adopted Daughter" of Dumaguete City.
A certificate of recognition signed by Mayor Remollo was awarded to Reina "in grateful appreciation of her talent, industry, tenacity and patriotism which inspired the Filipino nation for being part of the first ever Philippine Women Football Team that competed in the FIFA Women's World Cup Australia & New Zealand 2023."
Reina graduated from Yale University in 2022, where she earned a Bachelor of Arts degree in Film and Media Studies.
Cynthia finished Elementary in 1949, High School in 1953, and Pre-Med in 1955, all from SU. She was recognized by SU as an Outstanding Sillimanian Awardee in the field of Community Service last August 28, 2017.