eOSP | This digital newsletter is a digest of calls for participation, research collaborations, fellowships, scholarships, events and other opportunities as well as news of breakthroughs and scientific discoveries for the Silliman University community . It is curated by the Office of Strategic Partnerships.
---
eOSP Version 7 – 17 September 2018
The Facebook Fellowship Program and Emerging Scholar Awards
Deadline: October 12, 2018
are designed to encourage and support promising doctoral students who are engaged in innovative and relevant research in areas related to computer science and engineering. Winners of the Fellowship are entitled to receive two years of tuition and fees paid, a stipend of $37,000 each year, and up to $5,000 in conference travel support. Applications will be evaluated based on the strength of the student's research statement, publication record, and recommendation letters.While open to students in any year of PhD study, a heavy emphasis on research and publication record for Facebook Fellowships favor students who are further along in their course of study.
More information: https://research.fb.com/programs/fellowship/
[Visiting Researcher] Center for Digital Society Research Fellowship Program
Deadline: September 25, 2018
Center for Digital Society is a research center established by the Faculty of Social and Political Sciences, Universitas Gadjah Mada, Yogyakarta.
CfDS pledged to delve more into the study of contemporary digital society, including related issues surrounding the topic; such as the issues of smart city and urban development. The emphasis is then put on the utilization of technology to shape the society in becoming digitized, as well as to bring solvency to social issues.
Center for Digital Society aims to expand its collaborative research scope by inviting early career scholars to conduct research related to digital society issues. They are looking to work with scholars from all disciplines to take part in our research environment in this fellowship program.
Fellowship benefits
An all-inclusive and fixed monthly stipend
Research grant
Opportunity to have their research published in books or journals
Networks with public and private stakeholders
More information: http://cfds.fisipol.ugm.ac.id/article/321/Research-Fellowship-Program-october
[Call for Papers]International Convention of Asia Scholars (ICAS) – Funding Available
Deadline: 10 October 2018
The 11th International Convention of Asia Scholars (ICAS) is the most inclusive international gathering in the field of Asian Studies. ICAS attracts participants from over 60 countries to engage in global dialogues on Asia that transcend boundaries between academic disciplines and geographic areas.
ICAS 11 will be held at the Law Faculty Building of Leiden University from 16-19 July 2019.The special focus of ICAS 11 is Asia and Europe. Asia in Europe, but proposals for ICAS 11 may involve topics from all Asian Studies disciplines in the broadest possible sense. Topics could range from (but are not limited to) Eurasia; Citizen participation; Political economy; Heritage and Identity; Connectivity; New Pedagogies; Foreign Workers; Mediascapes; Social Capital; Rethinking Education; Religious Transformation; Postcolonial; Democracy; Neoliberalism; Intellectual History; and Big Data.
See: https://icas.asia/en/icas11-cfp
East West Center Asia Pacific Leadership Program 2019 (Scholarships available)
Deadline: 1 March 2018
The Asia Pacific Leadership Program is Experiential, Relational, Transformative, Optimistic, and Impact-oriented.
Each year, approximately 25 Fellows are selected to participate in the APLP and join a highly diverse, active community. Fellows have at least 5 years of professional work experience and normally 8 to 10. APLP Fellows must have at least a 3 year Bachelor's degree, and 56% of each cohort will also have completed a Masters degree. Cohorts typically have representation from over 18 countries and from every type of academic and professional background (as examples: science, business, development, politics, government, civil society, medicine, religious orders, art, finance, academia or research). The age of participants ranges from mid 20s to mid 40s with an average of 32 years old. There are no citizenship, age, or ethnicity restrictions.
More information: https://www.eastwestcenter.org/professional-development/leadership-programs/asia-pacific-leadership-program-aplp/what-the-aplp
Thomson Reuters Foundation Reporting the Illegal Internet Trade in Wildlife 2018 (Fully-funded to Thailand)
Deadline: 24 September  2018
The intensive five-day workshop, taking place in Bangkok, Thailand from Monday, 05 November – Friday, 09 November will build the capacity of journalists to report on the issue of illegal online wildlife trade – improving both knowledge and skills and also help journalists to present new viewpoints, promote discussion and dialogue on the most strategic areas for intervention.
More information: http://www.trust.org/media-development/programmes/?sfid=a15D0000019lMsgIAE&areaOfFocus=Climate%20Change,%20Environment
---
e-News – August 22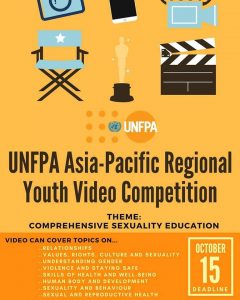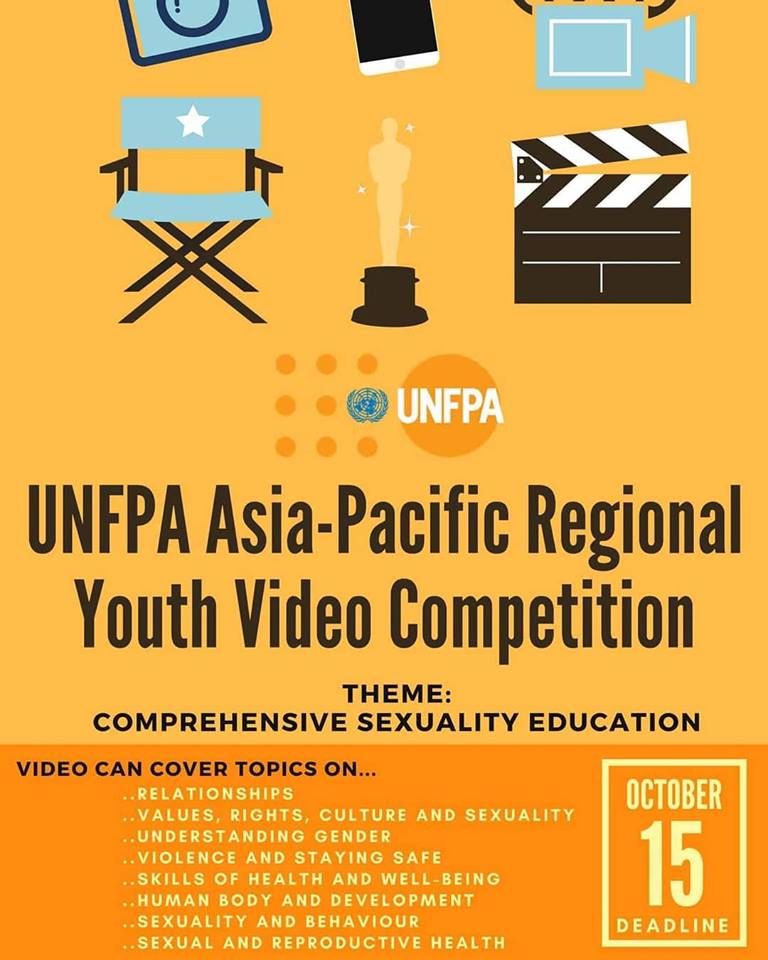 [Contest] UNFPA Asia-Pacific Region Youth Video Contest
UNFPA is hosting an Asia-Pacific Regional Youth Video Competition. Two winners will be selected to attend the Share-a-thon on CSE in Bangkok, Thailand in November 2018 (including round trip airfares, accommodation, and daily subsistence allowance). Also, get the opportunity to work with the UNFPA Asia and the Pacific Regional Office with videos, articles and social media covering highlights of the meeting.
You can find more information through the online application form: https://filmfreeway.com/UNFPAAsia-PacificVideoContest
For more info contact: [email protected]
[Job] British Embassy -Political and Human Rights Officer
The Political and Human Rights Officer will serve as a key member of the British Embassy's Policy, Projects and Communications team. The jobholder will be responsible for monitoring, assessing and reporting on human rights and rule of law issues throughout the Philippines. The jobholder will also support the Embassy's Political Attaché and Second Secretary Political in providing analysis of internal politics and delivery of the UK's wider security objectives.
ToR here: https://fco.tal.net/vx/mobile-0/appcentre-ext/brand-2/candidate/so/pm/4/pl/1/opp/6837-MNL-Political-and-Human-Rights-Officer-B3-L/en-GB
[Internship] Mano Amiga is looking for creative thinkers, passionate problem solvers and proactive team members who will serve as the Communications & Advocacy intern for our upcoming Digital Youth Summit.
The Digital Youth Summit (DYS) is one of the main events of Mano Amiga in partnership with Facebook APAC. This program aims to train organizations and individuals around the Philippines on efficient and effective ways they can utilize social media to promote social good.
Job Description:
Develop the Social Media Content Plan for the next 2 months and a Digital Marketing Guide Sheet
Contribute relevant content to the Digital Portal
Assist in creating effective promotional materials and content for the DYS (i.e. Posters, Infographics, ppt)
Assist in the general distribution of press releases and media alerts
Provide support to our marketing team
Manage the social media platforms of Mano Amiga PH (Instagram, Website, Facebook)
Provide support for the team in strengthening partnerships with current stakeholders by ensuring
coherence in branding materials.
If you are interested, please send your CV to [email protected].
[Fellowship] Atlas Corps Fellowship (USA)
Atlas Corps is an overseas fellowship for the world's best social change leaders. Our mission is to address critical social issues by developing leaders, strengthening organizations, and promoting innovation through an overseas fellowship of skilled social sector professionals. The Atlas Corps Fellowship typically lasts 12-18 months. For those serving in the United States, we will be bringing in new classes every 2 to 4 months. Fellows serve full-time at Host Organizations, develop leadership skills, and learn best practices through the Atlas Corps Global Leadership Lab professional development series and networking opportunities with other Fellows who are talented professionals from around the world. This prestigious fellowship includes health insurance, enrollment in the Atlas Corps Global Leadership Lab, flight and visa costs, and a living stipend to cover basic expenses (groceries, local transportation, and shared housing).
Eligibility for the Atlas Corps Fellowship
Two or more years of professional experience
Bachelor's degree or equivalent
English proficiency (oral, writing, reading)
Age 35 or younger
Apply to serve in a country other than where you are from (U.S. citizens are not eligible for the U.S. Fellowship – check out our Fellowship in Colombia!)
Commitment to return to your home country after the 12-18 month Fellowship
Commitment to living on a basic stipend that only covers groceries, shared housing, and local transportation to and from the Host Organization
For more explanation of these requirements, see: http://atlascorps.org/apply-united-states/
[ International Camp] International Korea Advanced Institute of Science and Technology Camp
8-11 January 2019, South Korea
KAIST is inviting Undergraduate Students from all ASIAN Counties to apply for the International KAIST Camp. KAIST Stands for Korea Advanced Institute of Science and Technology.
1. 3rd or 4th-year college student.
2. At a university in Vietnam, Indonesia, Philippines, Malaysia, Thailand, and other Asian countries.
3. Majoring in Computer Science or in other related areas.
4. No Passport Required at the time of Application.
5. No IELTS Required.
Program Cost:
The International KAIST Camp is a Fully Funded Program & will support in the Following:
KAIST SoC will support
1. Round-trip airfare Tickets.
2. Accommodations and meals.
3. Local excursions.
For any Technical Information and registration, visit and contact this following address
1. KAIST SoC: http://soccamp.kaist.ac.kr/
2. Camp office Email: [email protected]
Deadline to Apply for 2019 International KAIST Camp is 30th September 2018.
_________________________
The content and the items accessible from the pages are the sole responsibility of their creators and do not represent positions, policies or opinions of Silliman University. If you have any questions about a particular page or document, please contact the site or link author directly. Links to web pages created by sources outside the University do not suggest that the University approves or endorses the content of these web pages. Silliman University cannot accept any liability, including for any loss or damage, resulting from the reliance on the content, or for its accuracy and completeness.
---
e-News – August 14
The Global Change Leaders Program for Women from Developing Countries (Fully funded)
Deadline: September 27, 2018
Established in 2011, the Global Change Leaders Program (GCL Program) is an education program offered by Coady Institute's International Centre for Women's Leadership led by a core team of Coady International Institute staff and supported by other Coady faculty and associates.
This Global Change Leaders program enables women from developing countries to strengthen their leadership capacities in order to contribute to innovation and change in their organizations and communities.
The Global Change Leaders program provides successful candidates with full scholarship to support their learning throughout their stay at the Institute. Program participants also benefit from the guidance and mentorship of accomplished women leaders from around the world.
Eligibility
This program is targeted to emerging women leaders from developing countries who are working on development issues. These are women who:
Possess a minimum of five years of demonstrated leadership experience in a social or economic development endeavor in sectors such as livelihoods or inclusive economic development, food security, environment, access to education and health care, governance, political engagement of women and the rights of girls and women;
Will be immediately returning to their community and sector following the program to put their learning into practice;
Have great drive and passion for their work, demonstrated through their outstanding contributions in their organizations and communities;·
Are practitioners in civil society organizations including community based organizations and not for profits, or active in public or private institutions, donor/philanthropic agencies, social movements or in a social enterprise/business;
Hold a university degree or a combination of post-secondary education and experience; and
Have strong oral and written English language competencies.
Candidates must be from a country eligible for Official Development Assistance.
Eligible groups
Citizens of ANY developing country.
Citizens and residents of OECD member countries are NOT eligible to apply for this scholarship
Participating Institutions
Coady Institute's International Centre for Women's Leadership, St. Francis Xavier University, Antigonish, Nova Scotia, Canada
Fields of study
Program participants engage in learning grounded in real world experiences and focused on Coady's core thematic areas through a shared learning environment with other emerging women leaders from around the world. For full information, see Coady's Thematic Areas
Sponsorship duration
This consists of 2 main components: a 7-week on-site intensive course program, and a 6-month one-on-one mentoring program
Scholarship benefits
Successful candidates are provided with FULL scholarship that includes tuition, travel, accommodations, and meals. Participants also benefit from the guidance and mentorship of accomplished women leaders from around the world.
Method of Application
You must complete and submit an application form. References will be required. Applications will only be accepted electronically using the online form found on the official website. Applicants should ensure that they have notified their referees prior to submitting their application. Applications which do not have required references will not be reviewed.
It is important to read the frequently asked questions, and also to visit the official website (link to it is below) for complete information on this program.
DEADLINES:
Remember – apply as early as possible to be considered for scholarships. The online application for the 2019 GCL program is open between August 12 until September 27, 2018
See: https://coady.stfx.ca/education/global-change-leaders/
East-West Center Fall 2018 Internship Program in Washington
Deadline August 18, 2018
Applications are open for the East-West Center Fall 2018 Internship Program in Washington. The Center seeks interns each semester who are interested in gaining a first-hand training experience in a US-Asia research and education organization in Washington, D.C.
Interns are provided with a broad range of education and training opportunities in the course of their activities. Interns all participate in a variety of activities that support Center programs, including work in research, writing, and program support. Interns also have the opportunity to network with experts in their chosen fields through public forums held at the Center and at external organizations.
Responsibilities
Interns are involved in many aspects of the Center's work, including:
Researching and writing articles on contemporary US-Asia relations issues for the Asia Matters for America initiative (AsiaMattersforAmerica.org);
Writing briefs of events at the Center and external organizations;
Tracking foreign policy events and issue areas in the media in Asia and Washington;
Research assistance to staff and visiting fellows, many of whom are well-known experts in their fields;
Creating content for the Center's website, blog, or other outlets;
Support for public events.
Stipend
Stipends may be available for internships, depending on funding. All internships can be offered for university credits if your school permits. Internship hours are flexible, but the organizers asks that interns commit to a minimum of 20 hours per week (40 is preferred for summer interns).
Eligibility
Open to students and recent graduates;
Applicants should have strong excel and spreadsheet skills and the ability to work with large amounts of data;
Experience with tracking multiple media sources for new stories on a particular topic;
Development of infographics for use online and in print form in support of various research, policy dialogue, publication, and outreach projects;
Conducting long-term, in-depth research on assigned topics;
Experience with economic data is a plus;
Asian language reading fluency are pluses;
Applicants typically have a strong interest in US-Asia relations and may be studying international relations, Asia studies, international economics, public policy, international business, or other similar areas of study.
See: https://www.eastwestcenter.org/scholarships-fellowships/east-west-center-in-washington-fall-2018-internship-program
IDEX Global Fellowship Program for Social Entrepreneurs 2019 (Scholarships available)
Deadline: September 30, 2018
Applications are open for the January 2019 IDEX Global Fellowship Program. IDEX is a six-month fellowship experience designed for aspiring social intrapreneurs who want to take control of their career path while helping to address society's most pressing problems.
This is a high intensity, hands-on, immersive fellowship experience to help you begin the impact career you've always wanted. The fellowship is centered around 1:1 coaching, monthly mentoring workshops, curated readings, professional development challenges and relationship building with like-minded professionals that will last a lifetime. Every year IDEX Accelerator runs two fellowship cycles, the first intake is in January and the second intake is in July.
Program Details
Pre-Departure Orientation 3 weeks Online: The IDEX Fellowship begins with three weeks of virtual training delivered by IDEX staff and alumni. This orientation consists of virtual seminars, readings, and strategic deliverables to personally and professionally prepare you for your six month field experience.
Field Orientation 1 week in India: Field Orientation is an intensive five day training and orientation event. Fellows will glean insight from professionals within India's social impact sector, as well as undertake workshops and engage with professionals and colleagues in order to gain deeper insight and knowledge of key aspects of social impact work.
Social Enterprise Placement 24 weeks in India: For six months, fellows work with one of IDEX's partner enterprises as key staff member. Fellows work full-time with enterprises, interacting with customers, working hands-on with projects while building their proficiencies and grappling first-hand with the complex issues of working for a socially-minded enterprise.
Curriculum: In addition to full-time field placement, fellows will also undertake 24 weeks of custom developed curriculum modules that cover Managing Social Innovation, Advocacy & Outreach, Resource Mobilization and Impact Measurement. The IDEX Curriculum is self-paced and provides fellows with a baseline understanding of each focus area delivered through a combination of short-readings and curated content. Fellows can expect to commit approximately 4-5 hours a week on each curriculum modules for a minimum of 96 hours over the entire program.
Capacity Building Workshops: To accompany each curriculum module, fellows will particpate in four full-day capacity building workshops over the course of their fellowship led by Subject Matter Experts (SMEs) and Mentors-in-Residence who are seasoned professionals and thought leaders in their respective fields.
Cost
Fellows will receive a monthly living stipend (approximately INR 8500) towards cost of their living expenses. IDEX estimates that fellows living expenses, while in India, will average $250- $350 USD per month based on the city placement;
Host Enterprise provides shared housing accommodations for fellows (at no cost to the fellow) during the fellowship period. Fellows will be responsible for paying monthly utility costs;
IDEX provides partial scholarships for select fellows seeking to participate in the IDEX Accelerator program. Funding is merit-based and awarded to the most promising candidates who demonstrate a commitment and passion to continue working in the social enterprise sector post fellowship.
Eligibility
Candidates must possess the minimum qualifications to be eligible for the IDEX Fellowship:
Have a Bachelor, Masters or Graduate Degree (in any field) prior to start of program
Ability to perform in a high pressure environment
Be proficient in English (both written and spoken)
Can obtain an India Business visa for a minimum of six months
Have a minimum of 1 to 3 years of professional work experience
Have excellent listening and communication skills (written and verbal)
http://www.idexaccelerator.com
Alliance for Peacebuilding (AfP) Scholarship Fund for Local Peacebuilders (fully funded)
Each year, the Alliance for Peacebuilding's Annual Conference gathers together a diverse network of peacebuilders and provides them with the opportunity to share their achievements, insights, and, most importantly, visions for the future of
peacebuilding. Over the course of three dynamic days, conference
participants have the opportunity to constructively engage in an array
of activities and workshops structured around cutting-edge developments
in the field of peacebuilding, from neuroscience and psychosocial
healing to storytelling and the media. With past participants from over
200 organizations and 30 countries around the world, PeaceCon 2018 will
be a pivotal juncture for exploring the challenges facing the field of
peacebuilding, as well as developing collaborative solutions for the
future.
AfP will select a maximum of 10 applicants conducting peacebuilding work/research to travel and attend to PeaceCon 2018. Those
eligible are individuals who, either working independently or with an
organization, implement direct peacebuilding programming and/or conduct
peacebuilding research in a country/region outside of the United States,
Canada, Western Europe and the European Union, Australia, Japan, and
New Zealand.
Selected applicants will receive the following:
AfP will cover round-trip airfare; (AfP reserves the right to place limits on the cost of travel)
Local travel to and from airports;
Hotel accommodations for 4 nights stay in Washington, DC;
Pre-determined per diem to help cover the cost of dinner during the conference and when in transit;
Admission to PeaceCon 2018
and the Peacebuilding M&E Solutions Forum (The Solutions Forum is
held on October 23 and those selected are welcome to participate if
their travel and schedule permit it);
AfP will handle the travel logistics and
purchase the airfare and hotel accommodations. Selected applicants will
be required to coordinate their own local travel and will receive per
diem payments upon arrival. All participants will travel economy-class
flights to and from Washington, DC. AfP reserves the right to place a
limit on the cost of flights depending on the selected applicant's
residency and circumstances. The scholarship fund is contingent upon approved funding.
The deadline to apply is August 24th. All awarded scholarships are contingent on the applicants' ability to get a visa to the United States. Pending approved funding, decisions and notifications will be made by August 31st. Scholarships will be awarded on the basis of merit and financial need.
Apply here: https://docs.google.com/forms/d/e/1FAIpQLSeTgyiPApHOeTIy1jD36M4hOjZFCh3lDxY_wW7DmTcaGEsQVw/viewform
The content and the items accessible from the pages are the sole responsibility of their creators and do not represent positions, policies or opinions of Silliman University. If you have any questions about a particular page or document, please contact the site or link author directly. Links to web pages created by sources outside the University do not suggest that the University approves or endorses the content of these web pages. Silliman University cannot accept any liability, including for any loss or damage, resulting from the reliance on the content, or for its accuracy and completeness.
---
e-News – August 6
Call for young , independent scholars to join the Global Young Academy (Deadline 15 September 2018).
Applications are currently being sought from young, independent scholars who combine the highest level of research excellence with a demonstrated passion for delivering social impact. More information on how to apply and the online application form can be found here: http://globalyoungacademy.net/call-for-new-members/
Join the ADB-AIM Hack 2018 and win USD10,000 by finding solutions to three of Asia's pressing development challenges.
Here's how it works: 1. Pick a challenge (Health Solutions for Rural Areas in Asia, Digital ID Challenge, AI for Trust in Fintech Challenge) 2. Organize a team of up to 5 persons3. Sign in and send your proposal by 15 Aug 2018. The top 5 teams for each challenge will head to Manila for the final stage of the competition. Three winners will work with one of the biggest financing organization on the planet, incubate their project with the Asian Institute of Management and bring their project to life! Registration Deadline – 15 Aug 2018. Hackathon Event – 1-2 Sept 2018. Awarding – 3 Sept 2018 Apply: https://ultrahack.org/adbhack18 
ASEAN Youth Engagement Summit
In support of the 51st Anniversary of the Association of Southeast Asian Nations (ASEAN), the second ASEAN Youth Engagement Summit (AYES) will take place on FEBRUARY 6-9, 2019 in MANILA, PHILIPPINES. (Early wave applications will close on AUGUST 31, 2018, 11:59 pm).Limited slots only. Apply here: http://bit.ly/AYESEarlyWaveApplicationForm
 
Win a Scholarship to Attend the Asia Water Forum
Calling all youth in Asia and the Pacific, #WaterYouDoing?  How do you contribute to improving water services, water resource management, and water security?Submit breathtaking photos representing any of the 5 major water activities (supplying water, sanitation and water quality, water for food, water for energy, and water resources management). Winners get an all-expense paid trip to attend #AWF2018 in Manila this October. Email your photos or post on Facebook until 31 August only! Read the full mechanics here: http://bit.ly/WaterYouDoing
The content and the items accessible from the pages are the sole responsibility of their creators and do not represent positions, policies or opinions of Silliman University. If you have any questions about a particular page or document, please contact the site or link author directly.  Links to web pages created by sources outside the University do not suggest that the University approves or endorses the content of these web pages. Silliman University cannot accept any liability, including for any loss or damage, resulting from the reliance on the content, or for its accuracy and completeness.